Gemstone Earrings (Amethyst/Apache Jasper/Aventurine/Black Onyx/Blue Lace Agate/Carnelian/Coral/Green Moss Agate/Sodalite/Yellow Lemon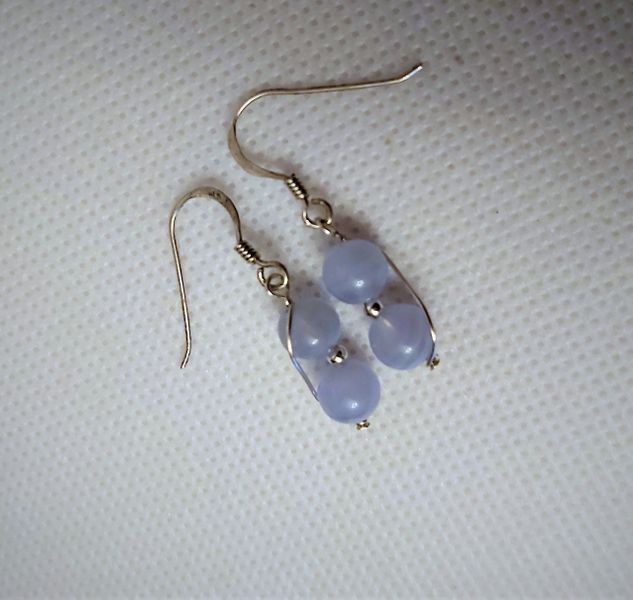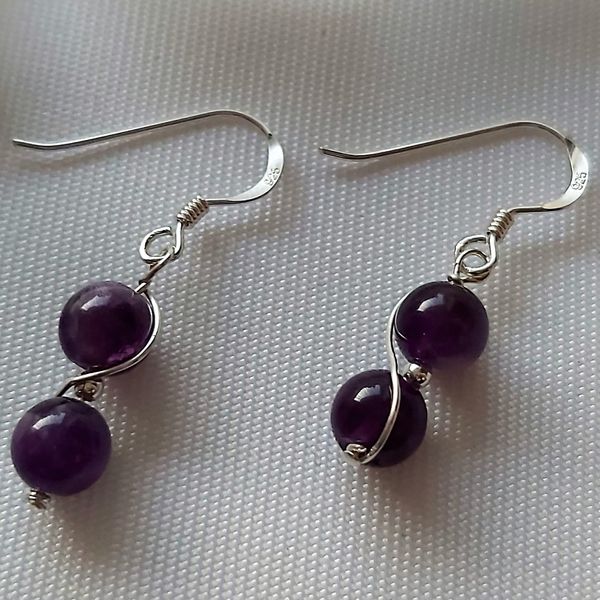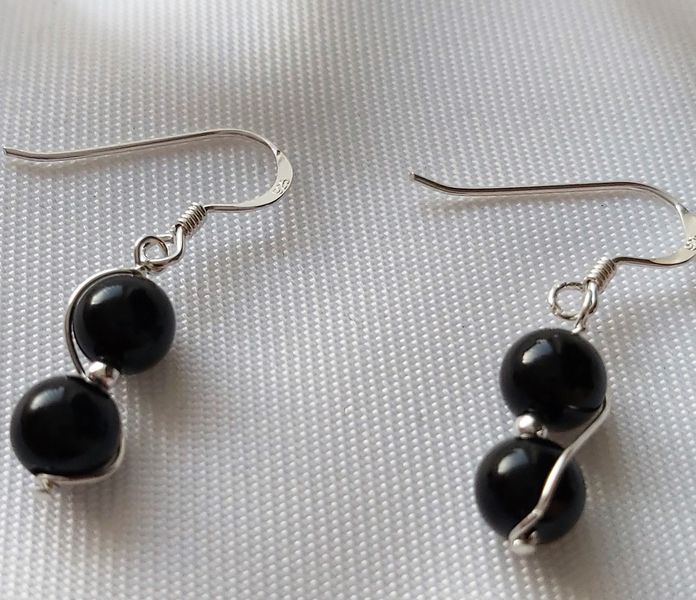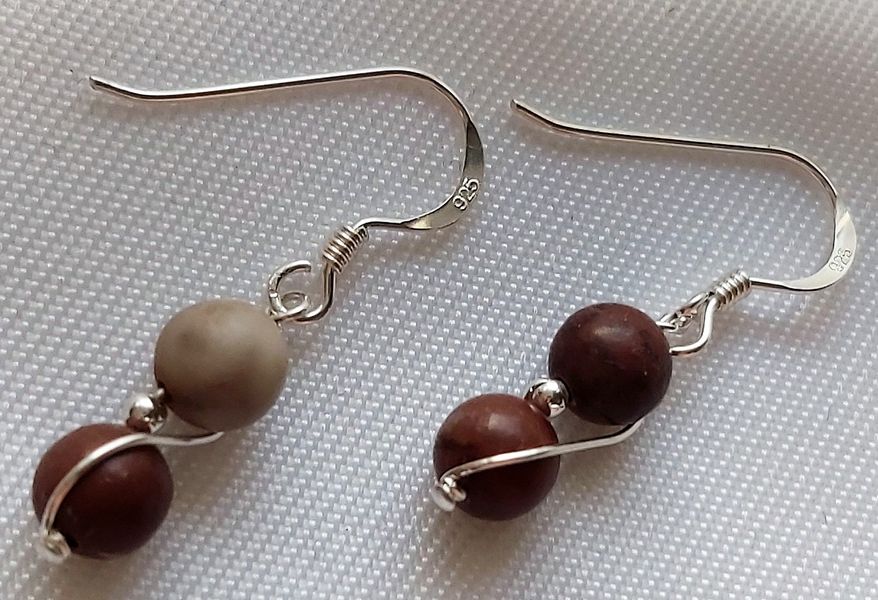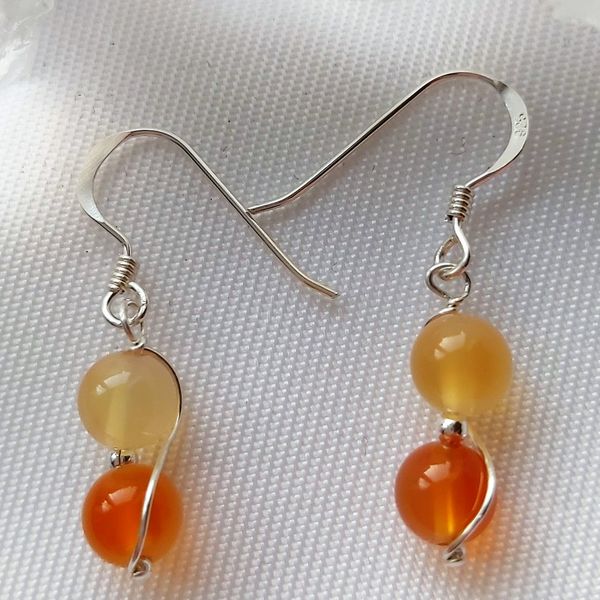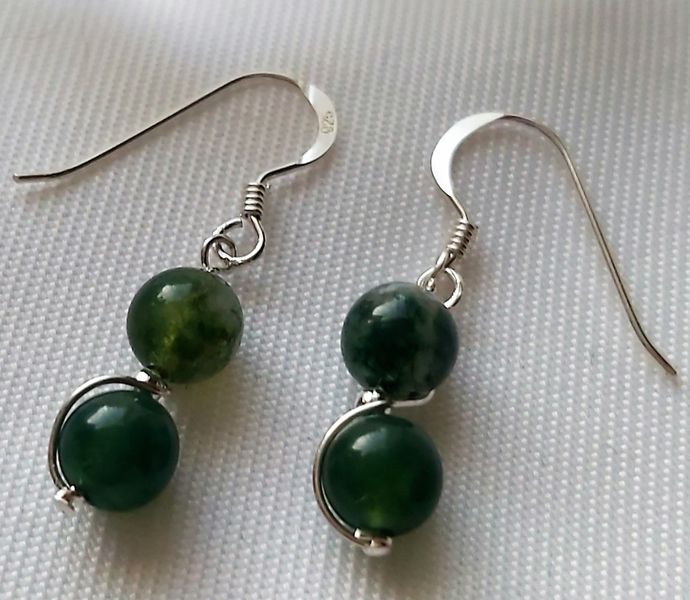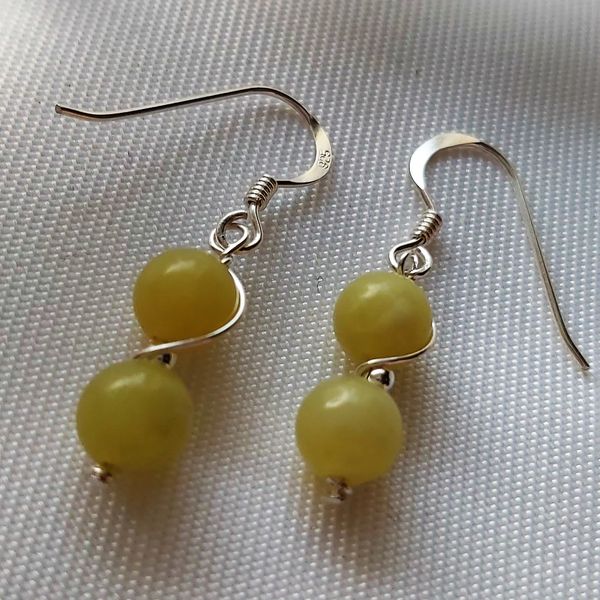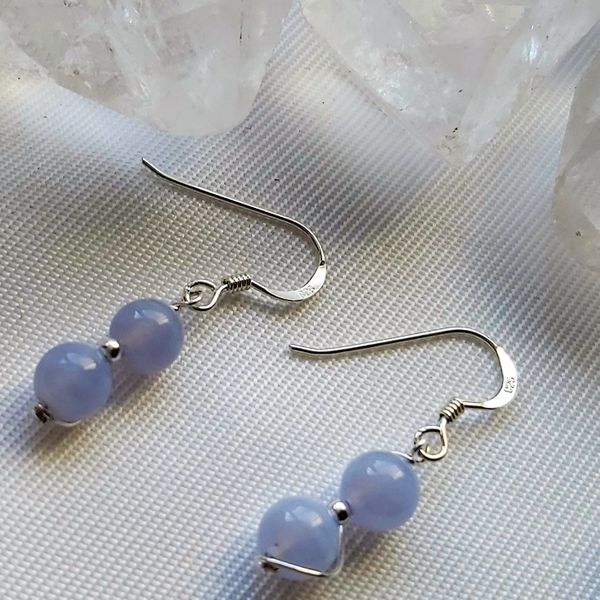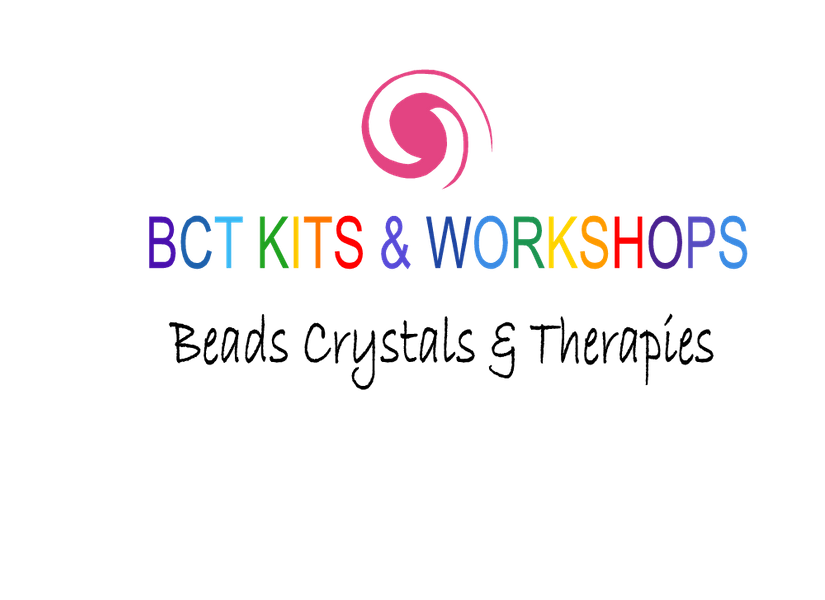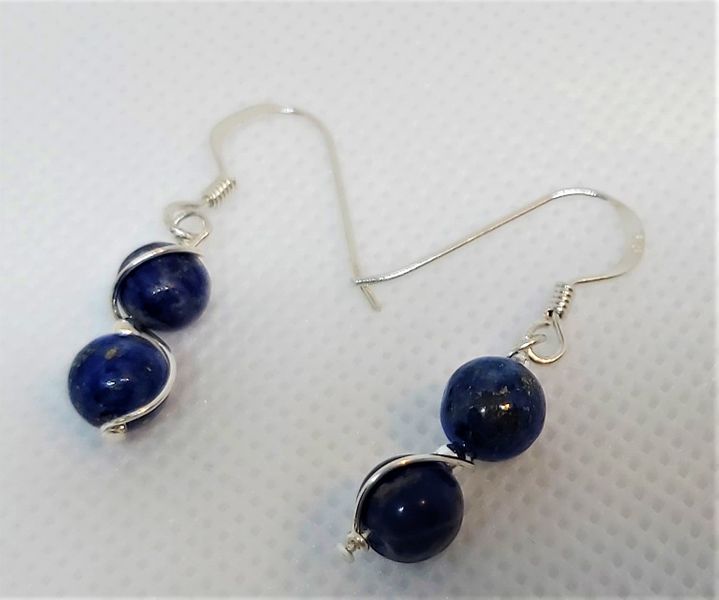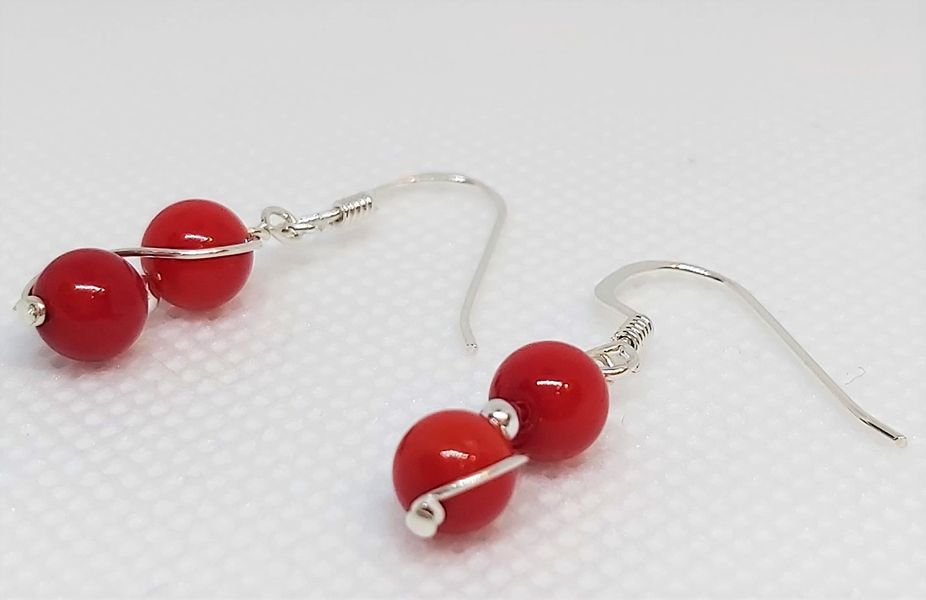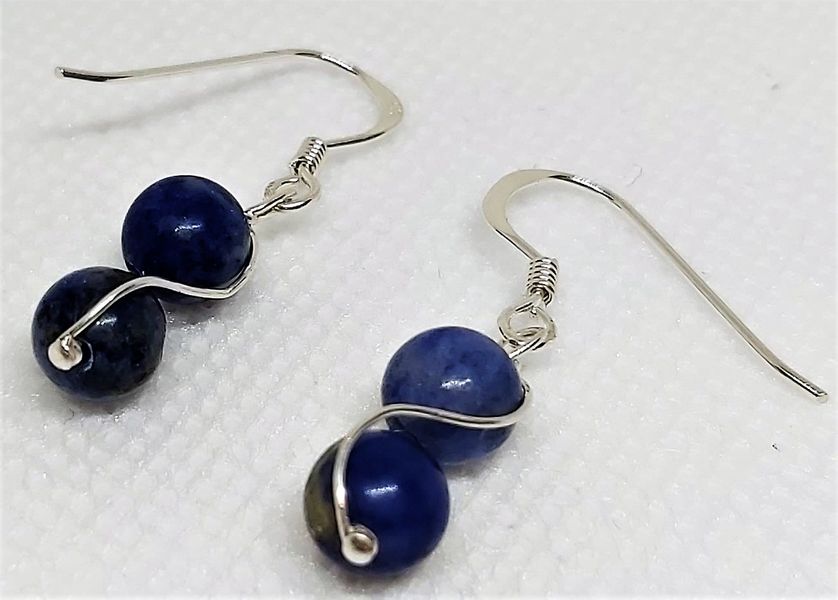 Previous
Next
Description
You have discovered fantastic Genuine Gemstone Earrings ~ 925 Sterling Silver Earrings, all with the same wonderful design of sterling silver swirled around the gemstones creating the look of them floating above each other. Approx. Full length including ear wire 3cms Width : 6mm 2 pairs of each Gemstone available Bespoke could be arranged All measurements are approximate and totally Genuine Gemstones, as they are formed naturally the look and colour may vary slightly to the photo as each Gemstone is unique in their natural formation. Each photo is numbered. Please quote the number and gemstone on the photo ('message the maker' if you have any queries).
How this was made
I love playing with Silver, Wire & Crystals & 925 Wire Wrapping is great fun, so I played with the Gemstones & Silver Wire and watched the design develop as I played, and eventually I created this design which I loved so much with the spiral of 925 Silver I couldn't decide which gemstone to use, so used all that I had, so you can choose which you prefer too.
What's included in the price?
* Beautifully presented .. * Gift Bags Organza style * Gift Wrapped in tissue paper (UK Only T&C's) Tracked Royal Mail 1st Class * A Personal Thank you from BCT
Duration
Maker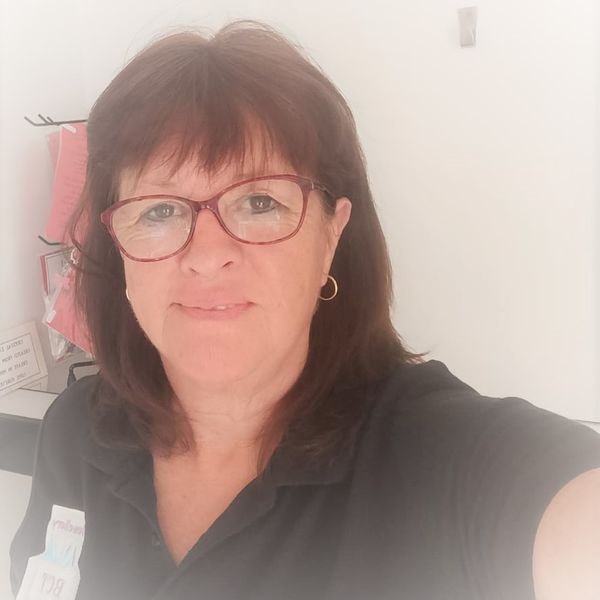 Qualified Tutor: Nicky Gee MFHT AET & Qualified Holistic Crystal & Reiki Therapist & Qualified Tutor Workshops Based: Summerhouse in Fleetwood (4 New Separate Tables & 4 New Chairs & 4 New Screens) ♥ You can purchase from Craft Courses: The very popular 925 Unique Jewellery Designs & Jewellery Kits for Beginners to Create in Minutes ~*~ ♥ Whatever the time you can book and buy here on line ♥ ALL BCT KITS include materials required and instructions to create your Jewellery. ♥ Jewellery Workshops are held in the afternoons ~ beginners and refreshers welcomed from March 2023. ♥ Crystal Introduction Workshop is now fully accredited with the FHT New Workshops available to attend from March 2023! ♥ Nicky's passion for the sparkly things in life lead her to designing and creating jewellery for over 35 years, Nicky's held many Workshops in libraries, homes, craft shops and now held in the summerhouse in Nicky's garden. ♥ Nicky is also working towards a zero plastic footprint, replacing where possible plastics for greener eco biodegradable materials, for example all packs were once in plastic bags, all future kits will contain packs of beads etc wrapped individually in parcels of biodegradable paper and non plastic Sellotape where appropriate, or reusable bags, we can but try to help ourselves. ♥ What to Expect in a Jewellery workshop * Classes of 4 students Maximum * Your own table with your own drawer and coat peg for your belongings * Jewellery Kits are boxed and sealed on your table with everything you require for your chosen workshop. * Booking price is all you pay * Everything you create, you take home with you same day at no extra cost. * All silver and beads and gemstones in your box, are yours to take home at no extra cost including any unused. ♥ Nicky says "I'm looking forward to sharing my passion for Jewellery and Crystals with you; to see the pile of silver sparkly bits turn into beautiful pieces of jewellery. Students who had no idea where to start just an hour ago, are creating amazing pieces of jewellery, to experience this and to see the proud faces on the personal achievements made is such a great moment, as you will find out when you attend too".
Suitable for
Easter
Fairs, festivals & exhibitions
Spooky
Father's Day
Romantic
Mother's Day
Christmas
Pet lovers
What does this mean?
Message the maker