Get started with spinning: an online course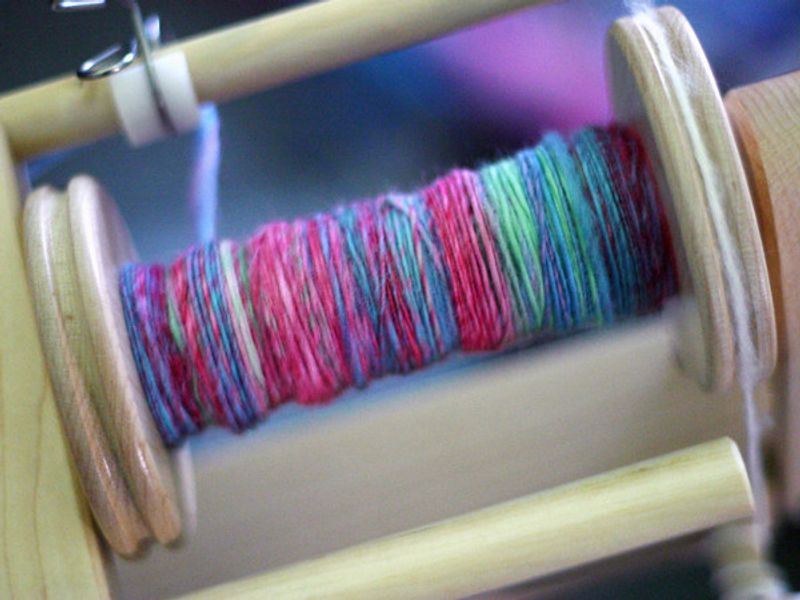 Description
This spinning online course is about how to spin yarn: but not only that. It looks at the wide choice of fibres available and helps you to choose the right spinning tool for you. The course is led by tutor Janet Renouf-Miller. Janet runs Create with Fibre, and is a registered teacher with the Association of Weavers Spinners and Dyers and has taught at their renowned Summer School. Janet has also taught courses for many spinning and weaving guilds, knitting groups, shops and voluntary organisations. She is the author of How to Spin (just about anything). Spinning for at least ten minutes a day helps keep her calm and focused and she uses it as a form of meditation. Having learned to knit at the age of six, Janet had become bored with it, until one day she saw someone spinning. Rushing home, she tried it with a hand spindle made from a pencil and a potato and was amazed when it worked. The rest, as they say, is history and in 1995 she studied for the Certificate of Achievement in Handspinning and became a spinning teacher.
What's included in the price?
The course represents excellent value and enables you to learn in your own time, at your own pace. As well as 13 pdf booklets, there are over 120 minutes of videos to accompany every aspect of the booklets, so that as well as reading about the processes, you can watch videos of exactly how it's done. - Meet your tutor - Introduction to spinning - Fibre - Pre-drafting - Spindles - How to spin on a high top spindle - How to twirl the spindle - How to spin on a spindle - Joining the yarn on a spindle - How to thigh roll and kick the spindle - How to ply the yarn on a spindle - Spinning wheels - Sourcing a spinning wheel - How to spin on a spinning wheel - How to treadle the spinning wheel - How to oil the spinning wheel - Understanding the Scotch tension - Let's start spinning - How to ply yarn on a spinning wheel - Using a niddy noddy and washing the yarn - How to hank the yarn on a niddy noddy - How to correct an underplyed yarn - How to sort and wash fleece - How to card fibre - Further resources After purchasing, we will be in touch via email and issue you with your personal link to access the course.
What you will need
This course is best viewed via a computer rather than a mobile phone or tablet. You will also require Adobe Acrobat or similar in order to view the pdf text elements.
Duration
Maker

We've teamed up with specialist tutors to provide an exciting range of online courses covering all aspects of sustainable living, from crafts to compost toilets and soap-making to straw bale building. As well as our online courses here, find a host of free materials to help you live more sustainably at www.lowimpact.org.
Suitable for
Adults
Suitable for beginners
What does this mean?
Message the tutor
This course is taught online