Panda embroidery kit with online on-demand tutorial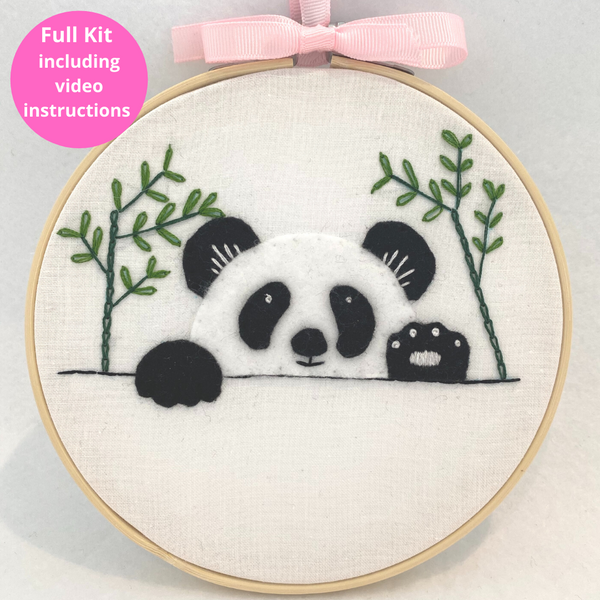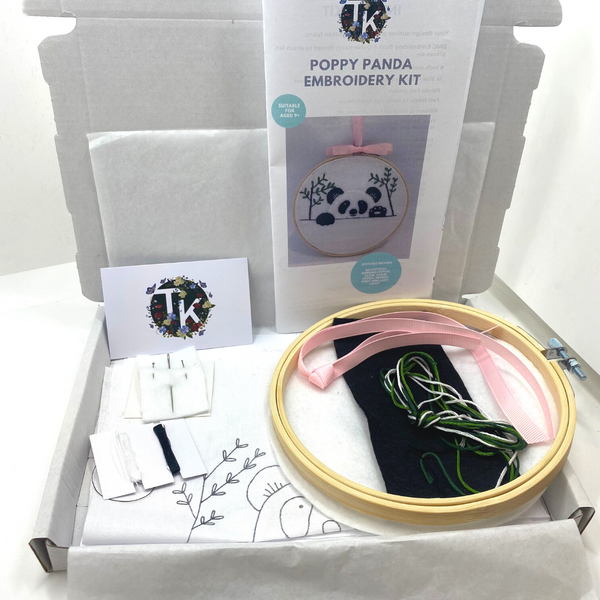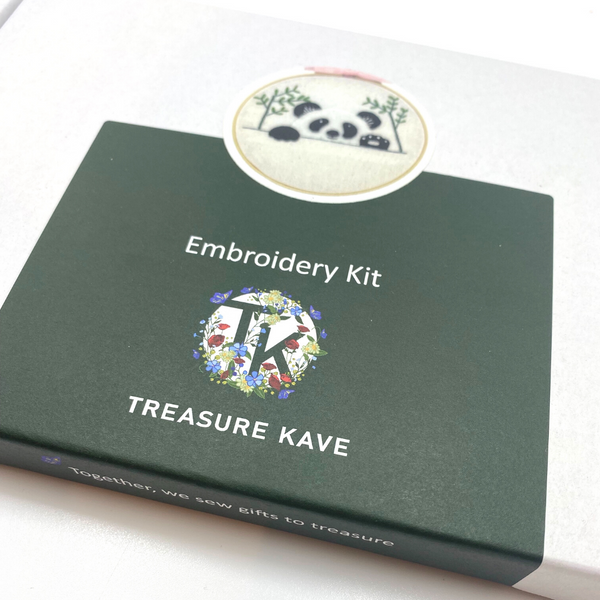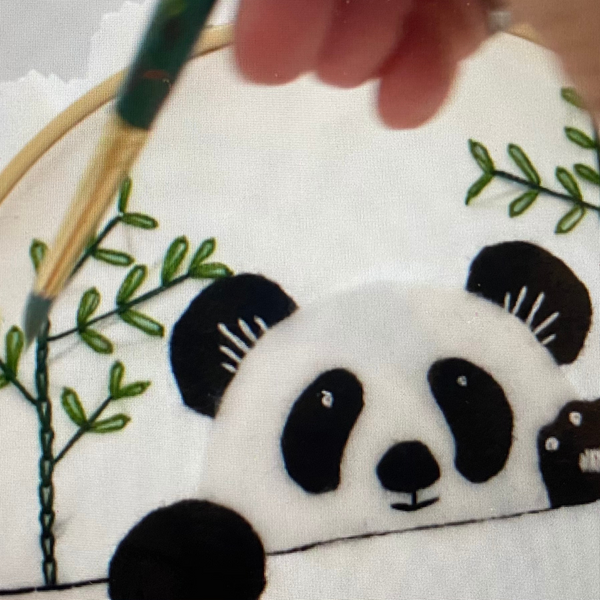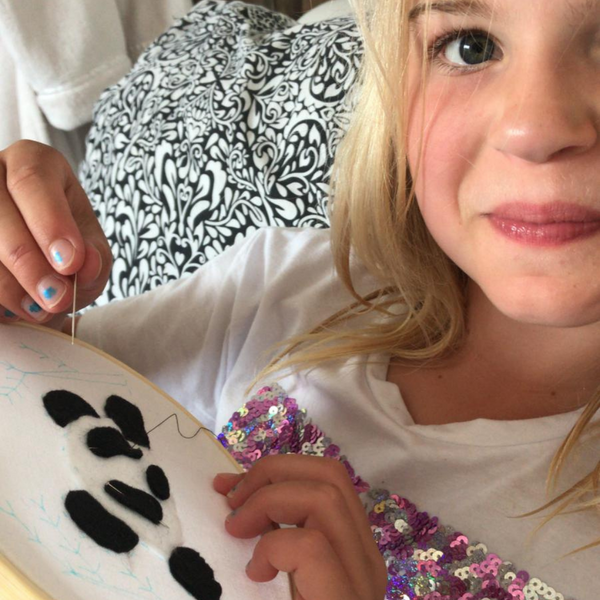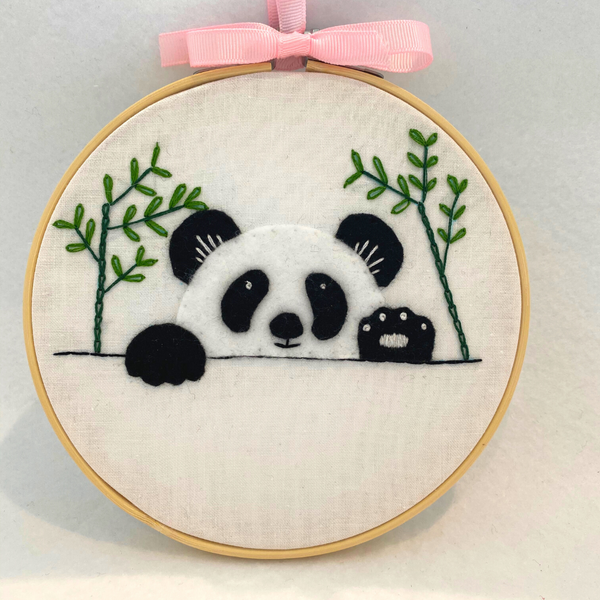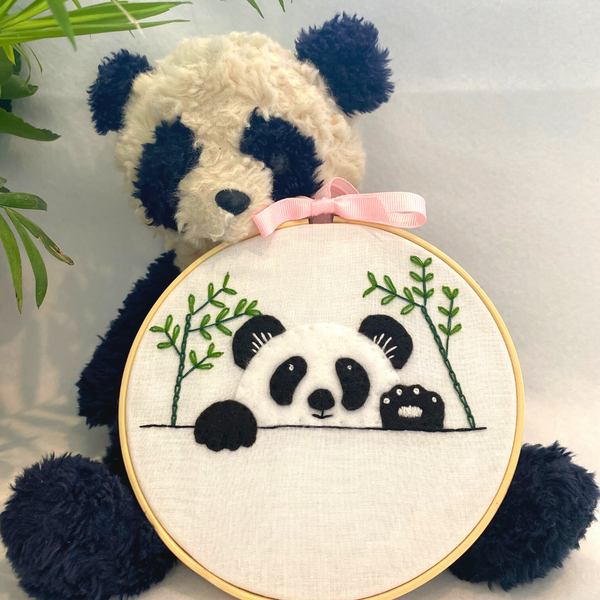 Previous
Next
Description
The Poppy the Panda kit is suitable for complete beginners and has been tested by kids aged 9+ and they all said how fun it was. With this kit, you'll learn running stitch, back stitch, satin stitch, chain stitch, french knot and lazy daisies. Learning to do embroidery with this kit is really easy with the step by step instructions and YouTube videos created by the Treasure Kave. As a kid l would spend hours sewing, doing embroidery, some cross stitch and animals were always my topic of choice. Embroidery is very therapeutic and I've had messages from parents telling me how relaxed and happy their child/teen was after doing this kit. It's the perfect kit as a gift for a young crafter who wants to learn some embroidery and have some much needed time away from a screen... whilst being supported with some visual learning tools when needed. Unlike many kits manufactured in China, l put these kits together by hand and have worked hard to simplify all the instructions and videos so they're suitable for a younger audience. Saying that they are also perfect to have a go as an adult and make a really lovely Nursery or baby gift ? Learning to do embroidery with this kit is really easy with the step by step instructions and YouTube videos created by the Treasure Kave. Embroidery has proven medical, emotional and physiological benefits. Turns out the simple act of sewing has proven health benefits that will enhance your wellbeing. Embroidery has the power to: ✨Relieve stress ✨Improved hand-eye coordination ✨Keep your mind focused ✨Increase happiness ✨Teach patience ✨Enhance your creativity The Panda Embroidery kit is suitable for those who have never done embroidery before. It was designed for a younger audience in mind and I've taught kids as young as 8 to make it. Suitable for ages 9+. Finished size - 15cm. Made in Great Britain. If this is bought as a gift, I'm happy to post directly and remove any invoice information? These are educational kits and not toys. It is strongly advisable for any child doing this kit to have an adult present to help. It is also a really nice and enjoyable activity to do together. The kit contains a real needle and small parts. Warning: Not suitable for children under 3 years of age.
What's included in the price?
The kit has everything you need to pick up a sewing needle and create your own piece of wall art to treasure: ? The Panda design outline printed onto a cotton fabric ? DMC embroidery floss and Gutermann thread to stitch the felt pieces on ? 6 inch embroidery hoop ? 1 x size 3 embroidery needle and 2 x sewing pins ? Panda face felt pieces ? Felt fabric to back and finish hoop ? Ribbon to hang and finish the hoop off ? Mini easel stand to display ? Fabric and embroidery floss for stitch practice ? Your how-to guide including how to get started, how to finish and top tips - all tested by embroidery beginners ? YouTube videos to help you along with each step and stitch (links provided on the how to guide)
What you will need
The kit has everything you need included with the exception of scissors.
Duration
Maker
I'm Kat and l run Treasure Kave. Treasure Kave is a hand embroidery business. I believe in designing beautiful, quality, fun and sustainable gifts that will be treasured for years to come. To 'sow' my love of embroidery and inspire others to use this versatile craft, I have developed a range of embroidery kits which are designed to be fun and accessible for all abilities. Treasure Kave has 4 main brand values: Quality Fun Accessible Sustainable
Suitable for
Adults
Seniors
Teenagers
Children
Pet lovers
Suitable for beginners
Message the maker