Handcrafted gift

Personalised "Walkies" Wooden Dog Automaton Kinetic Art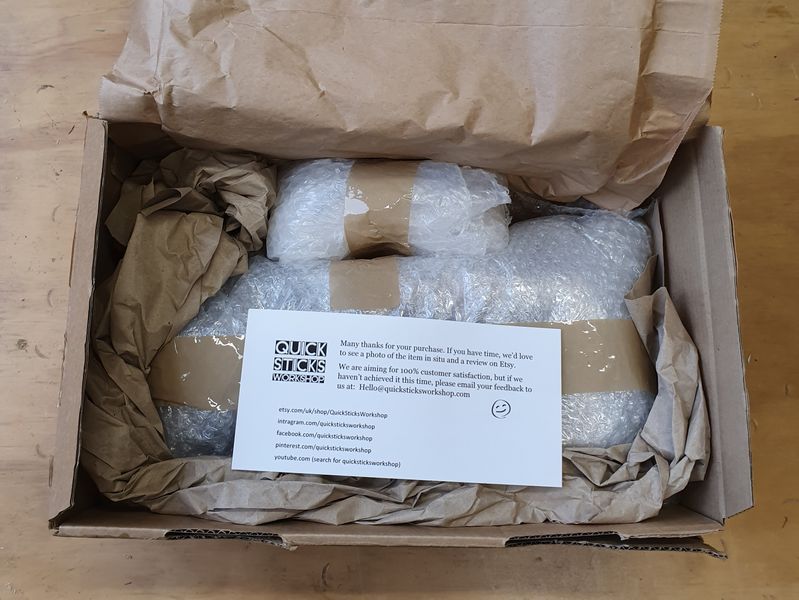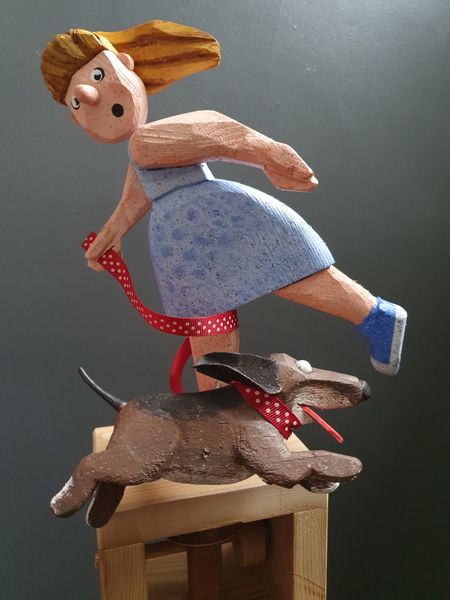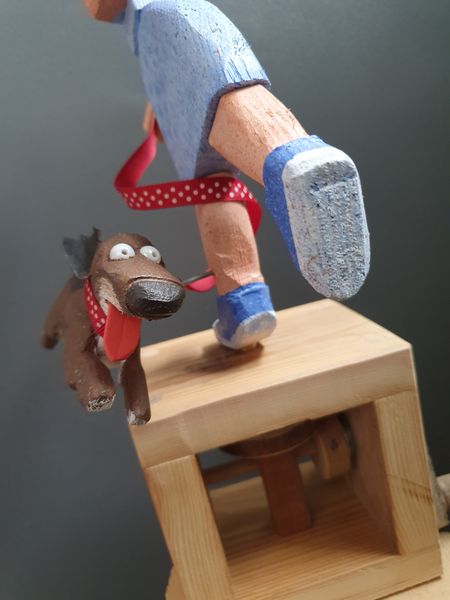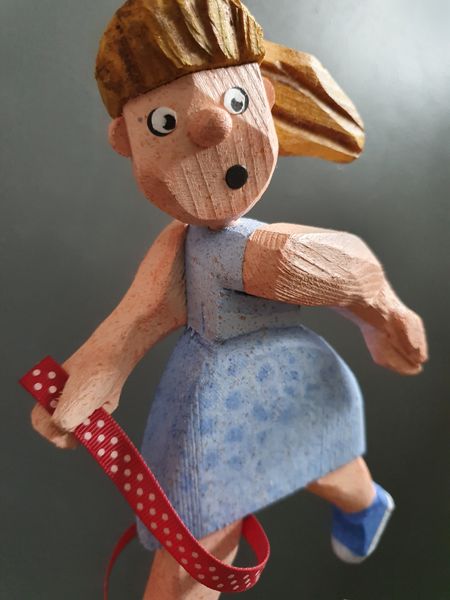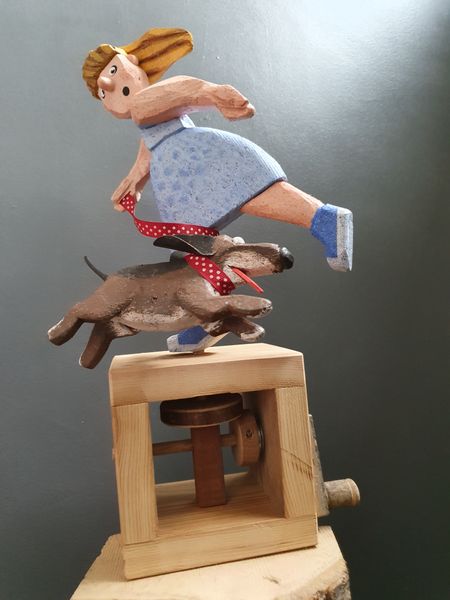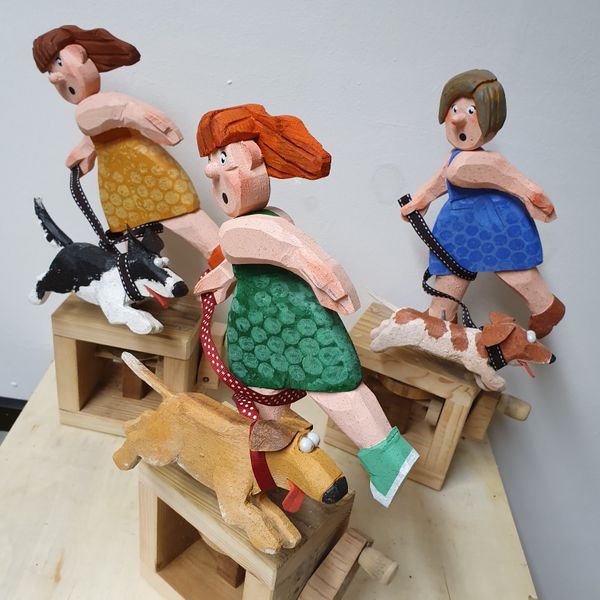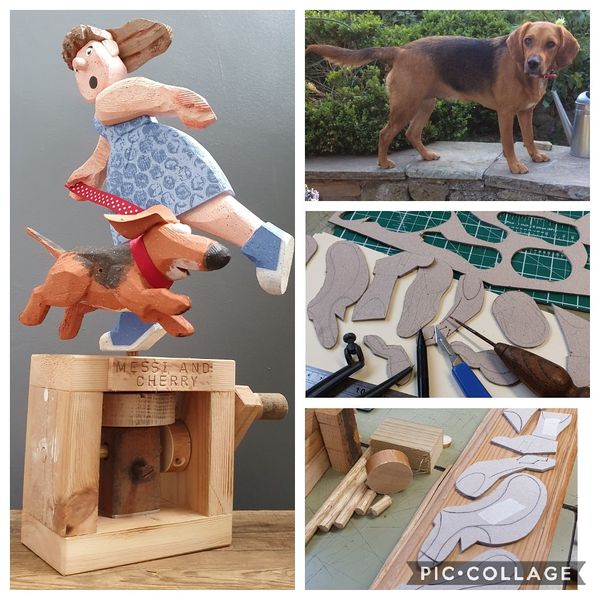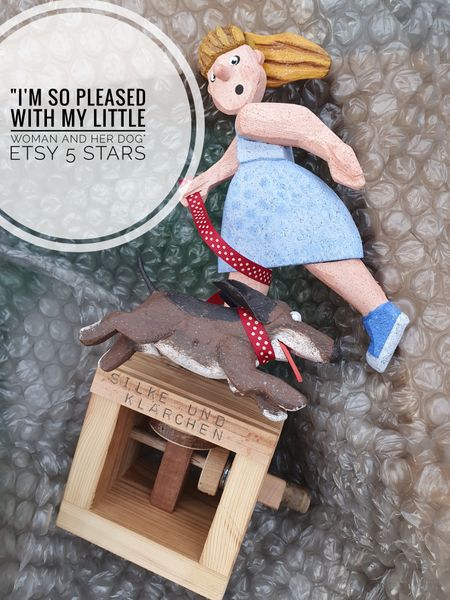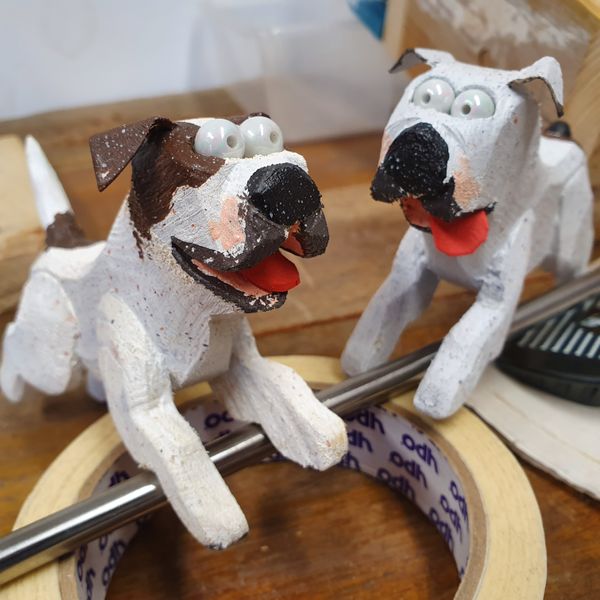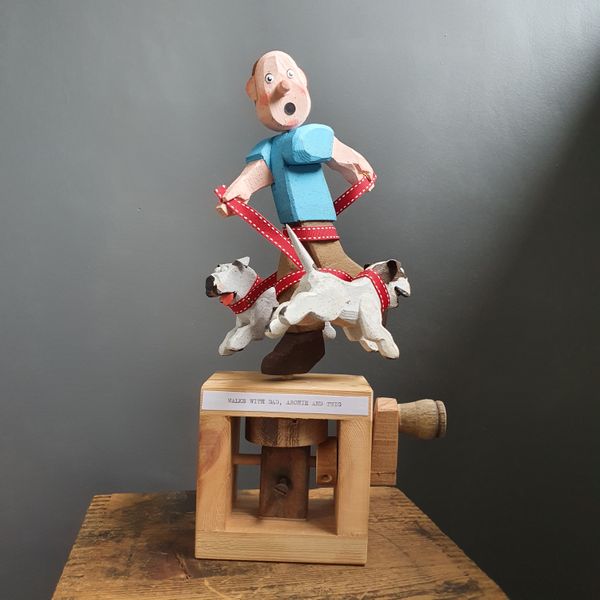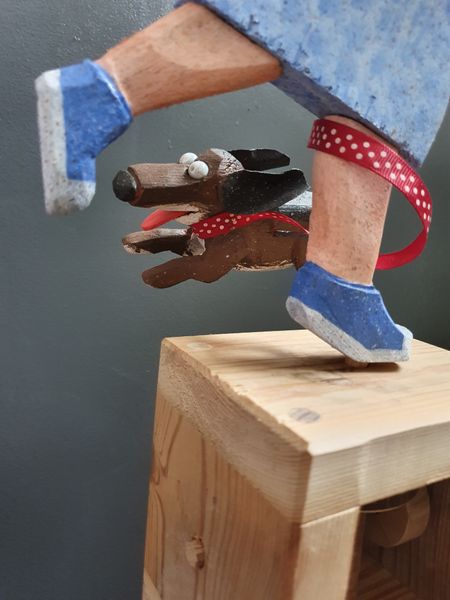 Previous
Next
Description
**You can find a video of the action on my social media. "Walkies" automata is one of a series of works that upcycle otherwise scrap materials from our workshop into pleasing and kinetic forms. Parts include bits of: lawnmower roller, driftwood, 30 year old floorboard, Mahogany, pallet wood, off-cuts from school bench, recycled packaging. Inspiration for the automata's design comes from the odds and ends of materials collecting in corners around the workshop, and from a passion for making things. In this case, I also wanted to make a dog themed work. As the owner of a pooch, I know this scene well, the 'under the feet' behaviour of an over excited dog as we headed out the door for "walkies". The model can be personalised the with your choice of inscription from my vintage typewriter. How about "DOG PERSON", "LIFE IS BETTER WITH A DOG", "BEST FRIENDS" or "CRAZY DOG LADY / MAN". Please enquire for details of available ready made models. For an extra special gift or personal memento, I can make the owner and dog based on photos you provide. Gender, clothing, hair, dog breed and other details can be changed - anything really, within reason. I usually ask a small premium for this due to the extra time involved in tailoring the actual woodwork of the model and extra communications with you to check details are perfect. The creative process: I start with an idea for the subject of the automata, for example a boat. I do some picture research and sketching to try and understand the key elements of the subject, I mean, what makes a boat, boaty? Next I hunt around for scrap materials and get a feel for how they might go together. The other piece of the puzzle is how the movement will be created. Once that's worked out there's usually a bit of trial and error to get it all working. After all, each piece is unique. Please feel free to ask me any questions you may have, I'm happy to try and accommodate requests. DELIVERY Delivery is free within the UK. £20 to Europe. £40 to USA and Canada. I reserve the right to request additional payment via Paypal if it transpires your country is significantly more expensive to ship to. All shipping is tracked and insured. If I agree to supply any physical goods for delivery outside the UK, they may be subject to import duties and / or additional taxes or expenses incurred due to complying with foreign regulatory requirements or laws. You will be responsible for payment of any such duties and / or taxes. Any dates quoted for delivery are approximate only. If no date is specified it will take place as soon as reasonably possible, unless there is an event outside of our control. You must examine any goods upon receipt and let me and the carrier know by email (including a digital photograph) if anything is missing, damaged or not as described within 24 hours. Only sign for a delivery if you are happy with the condition. If necessary sign 'unchecked' otherwise any claims may be invalid. If I are in error with what I sent, I will rectify this without unreasonable delay and without charge. You agree to co-operate with the return of incorrect items, at my cost. Our goods and online content are provided on an "as is", "as available" and "with all faults" basis without warranties of any kind, either express or implied. Reclaimed materials can have nail heads, holes, dings, rust, imperfections etc. If you want me to send a picture before shipping, please leave a comment on your order. If I agree I am at fault of workmanship, you agree to pay all return and re-posting costs. Care and Maintenance of your automata. Avoid prolonged direct sunlight which could fade the paint. Avoid excess humidity, which could swell the wooden components. The model is not a toy and should only be used by children under responsible adult supervision. Excess for force or misuse may damage the mechanism. To clean, use a dry duster only. After prolonged use, the surface of cams maybe rubbed with a wax candle to reduce friction. Packaging. I am very concerned for the environment. The majority of my packaging material is reused from deliveries I receive. Please excuse the slightly eclectic mix of carboard box, bubblewrap, air bags and scrunched paper you find protecting your model. ***Due to small parts and the reclaimed materials used, this item is NOT A TOY. ***Measurements are approximate.
Duration
Maker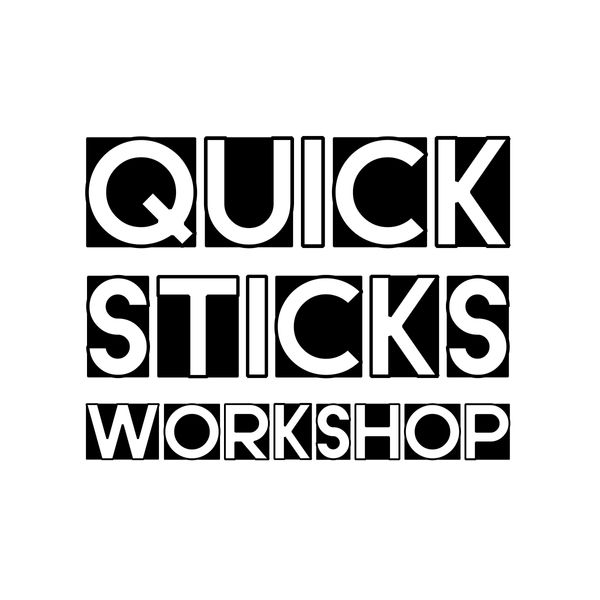 I've always loved making, and have been fortunate to work in creative roles for over 25 years. Two employment stints, at the legendary Eden Project and magical Centre for Alternative Technology stoked my interest in art from recycled materials. In 2019 I setup Quicksticks Workshop. My goal, to impart the joy of making, through handmade products, educational kits and practical sessions. I also now help teach Design Technology. The busy school day a perfect contrast to my quite studio.
Suitable for
Christmas
Easter
Father's Day
Mother's Day
Romantic
What does this mean?
Message the maker