Quirky and twirly red and silver metal table decor set, Red Wrought Iron Candle Holders, Chameleon beaded & Metal serviette holders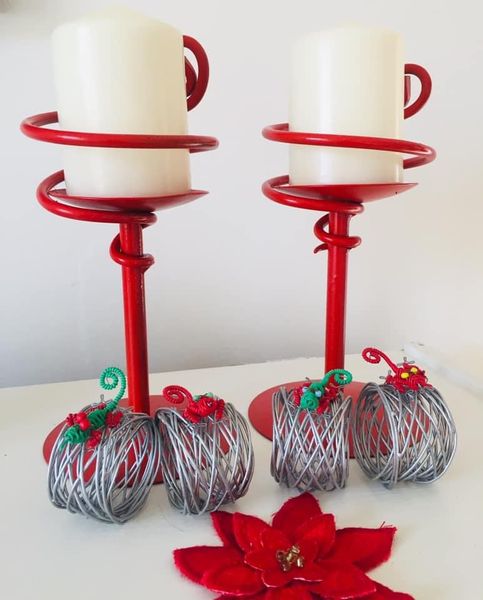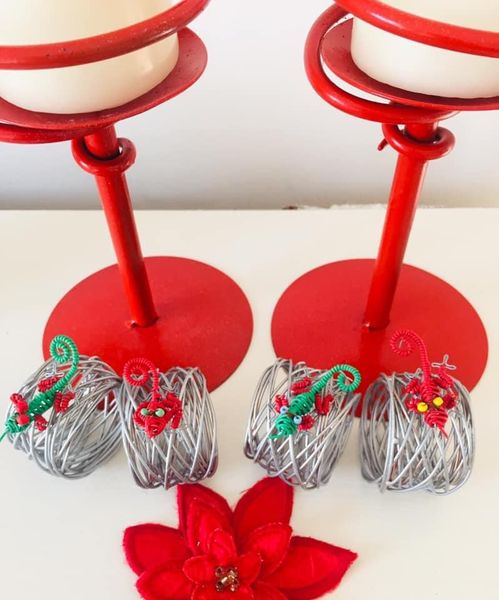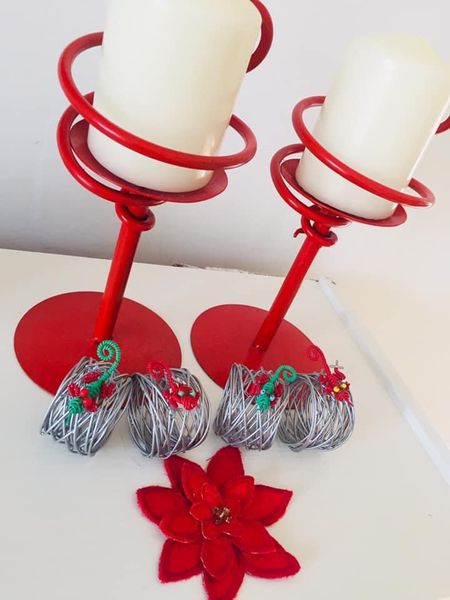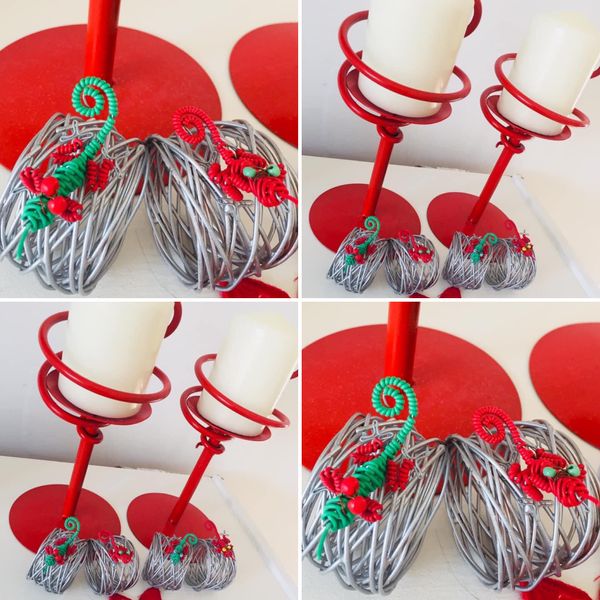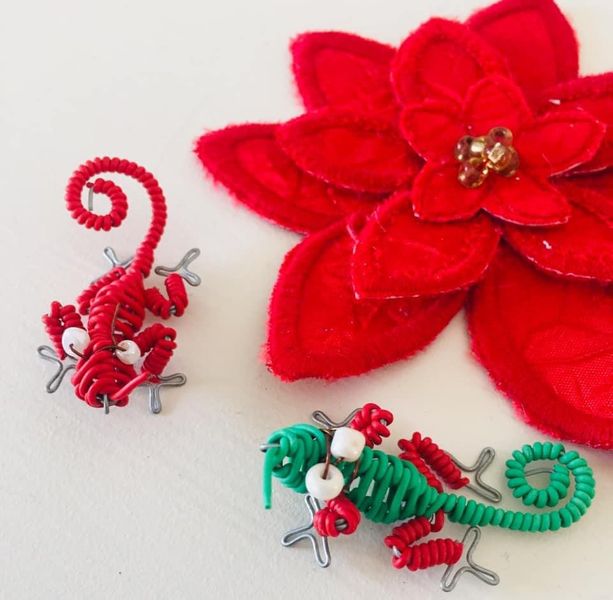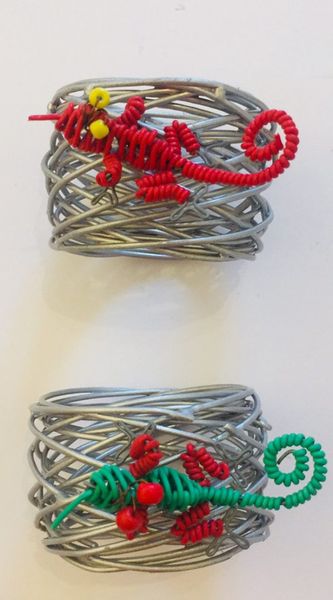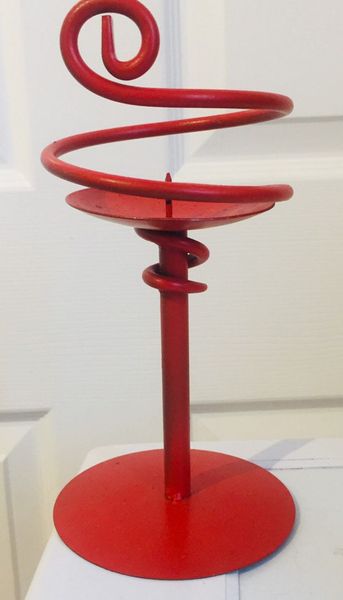 Previous
Next
Description
This quirky one of a kind, exclusive table decor set will be a talking point for a long time. Handcrafted cute little red and green beaded and metal chameleon with wrought iron candle holders. ♥Details Comprises of a set of 2 Candle Holders and 4 Napkin Rings Materials - Candle holders - wrought iron, glitter and paint. Napkin Rings - metal Chameleon - metal and beads Size - Height of candle holder - 20 cm (approx) Diameter- 7 cm (approx) Napkin Holders - diameter - 3.5 cm Chameleon on napkin holders- 5cm length (approx) EXCLUDES CANDLES, LOOSE CHAMELEONS AND POINSETTIA FLOWER. Please note the following: ♥Colours - due to a variety of monitor settings, the colours of the products will vary slightly to the actual product. ♥Please view our returns policy. ♥Due to the nature of the products being handcrafted, they will not all be exactly the same. ♥Please note this is a decorative item and should be kept out of the reach of babies and small children due to small components being a choking hazard. ♦Please contact me via email - nadia@rosamaycrafts.com
How this was made
Wrought iron candle holder were spray painted red, with a bit sparkle sprinkled on the candle holders. Napkin rings - wire was wrapped several times around a plastic tubing. Quirky chameleon were handcrafted by hand using wire and beads. The beaded chameleons were attached to the napkin ring. Each ring is slightly different due to them been individually handcrafted. Materials - Candle holders - wrought iron, glitter and paint. Napkin Rings - metal Chameleon - metal and beads
What's included in the price?
Wow your dinner guest with our one of a kind table set decoration set. This set consists of 2 Candle Holders and 4 Napkin Rings. Materials - Candle holders - wrought iron, glitter and paint. Napkin Rings - metal Chameleon - metal and beads Size - Height of candle holder - 20 cm (approx) Diameter- 7 cm (approx) Napkin Holders - diameter - 3.5 cm
Duration
Maker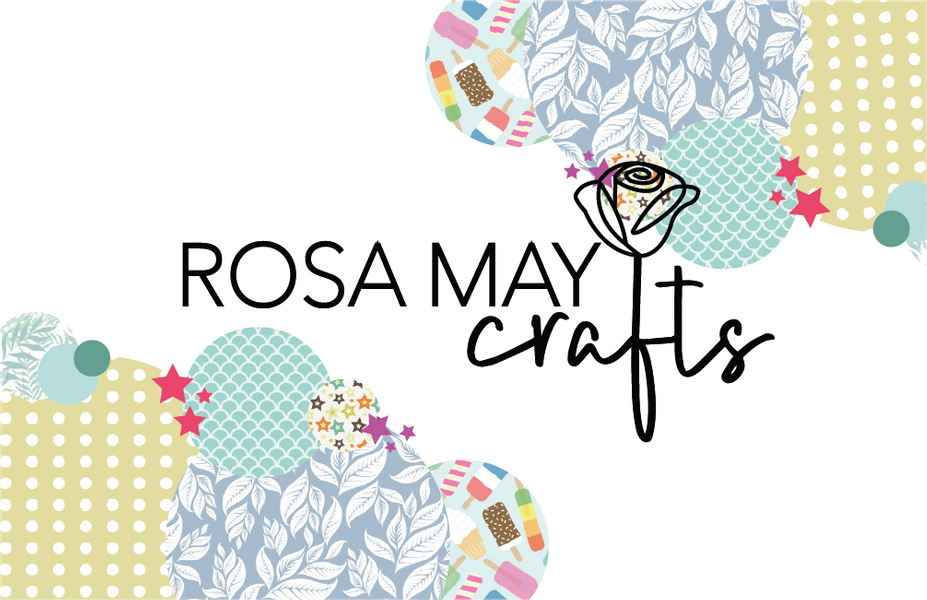 At Rosa May Crafts, we believe in creativity without limitations. I create and design fun and quirky digital patterns using traditional crafts, such as sewing, macrame, crochet, appliqué, etc. and bespoke wedding and home decor. We will help you along whether you are a beginner or experienced with extra tips or videos, we show how versatile a single pattern can be, using various mediums and crafts, we have used Free motion sewing, appliqué and hand embroidered or create a bunting.
Suitable for
Easter
Christmas
Spooky
Pet lovers
Father's Day
UK Holiday
Mother's Day
Overseas Holiday
Fairs, festivals & exhibitions
Romantic
Message the maker