Organic fused glass flower: Poppy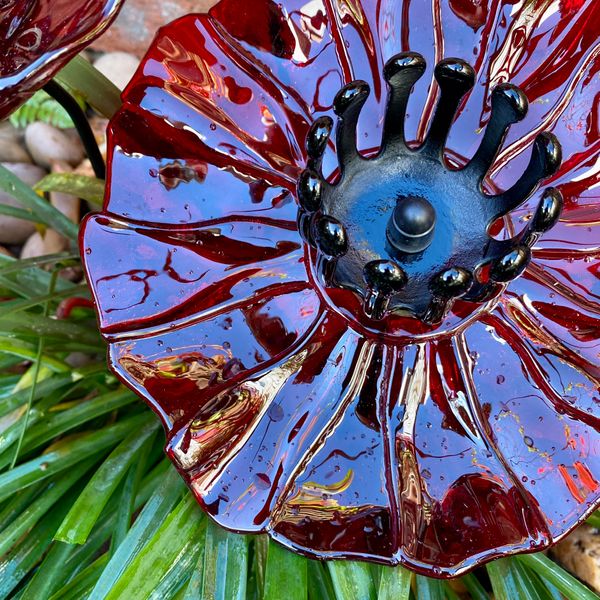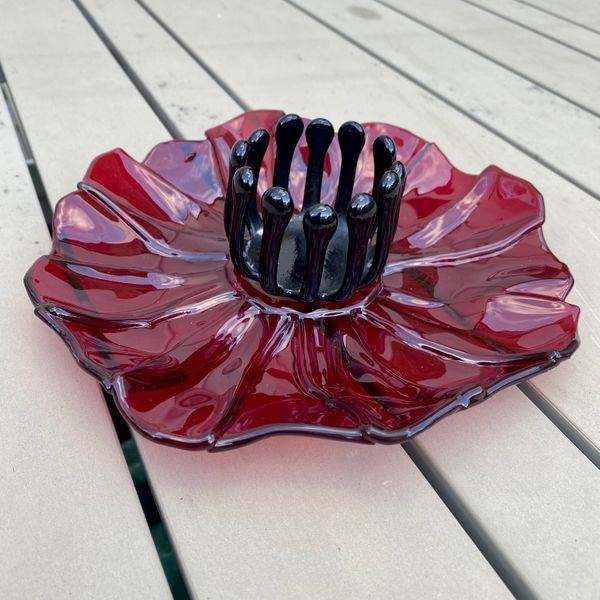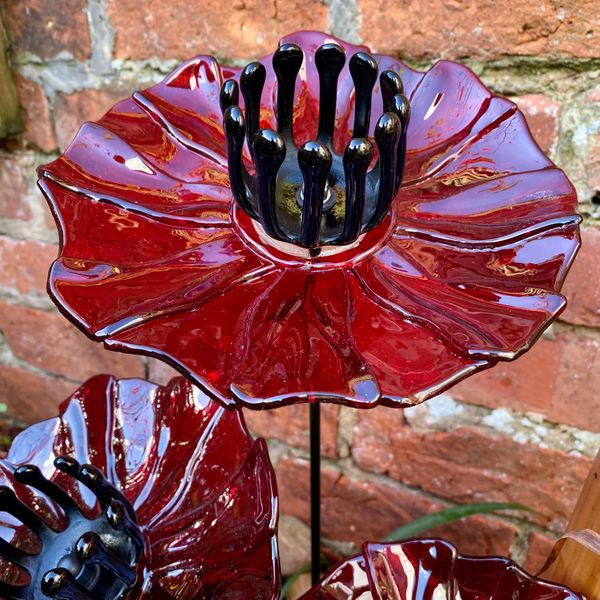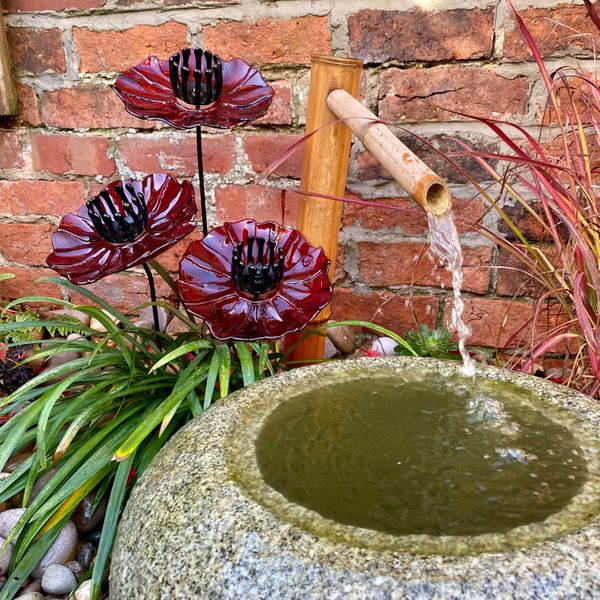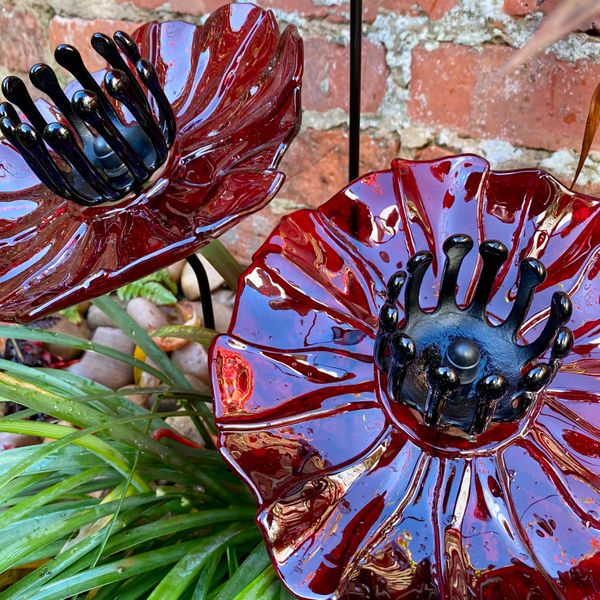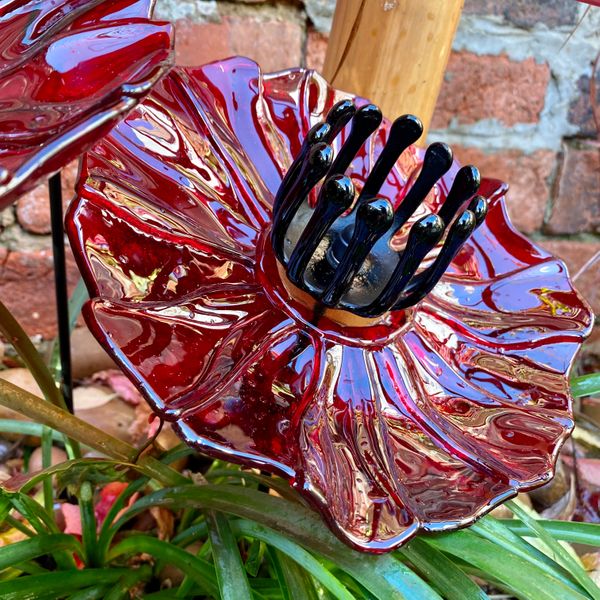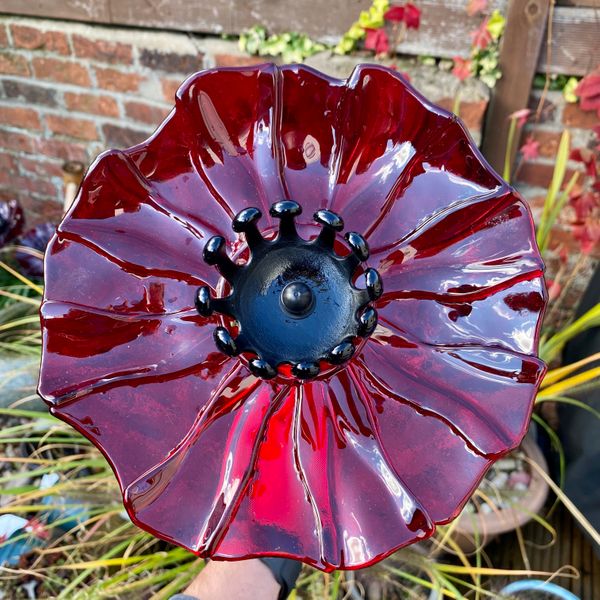 Previous
Next
Description
This fused glass flower is inspired by the Poppy flower, mounted on a 70 cm weatherproof stake. It'll take pride of place in your garden and keep the joy of summer going throughout the year. These vibrant floaty petaled glass flowers play with light and make a real statement to your garden. The unique design contains two glass parts making up the organic undulating flower and stamen. These flowers have been designed to be robust enough to showcase in your garden however they look equally as pleasing in your home. I loved the process of experimenting to create my beautiful new range of garden flowers. Please look at my other ready to ship items for different variations of colour and glass trickery or message me for commissions. DONATION: These poppies are a symbol of the courageous works of the veterans of the British Armed forces and their families. A 5% donation is made from the sale of each poppy to the Royal British legion, supporting our armed forces through financial, social and emotional support.
How this was made
Method Glass fusing is the long-running art of joining, merging and shaping glass using a kiln. Every flower started off as sheet glass, then each of the pieces were hand cut, assembled and journeyed through my kiln 3 times. I form the separate flower & stamen pieces then slump them into an organic flower shape over a custom mould. Just like real flowers, being handmade no two pieces are the same. Materials I use specialist art glass to construct these beautiful flowers, playing with a myriad of effects that showcase the beauty of glass. Material 1: Red (Transparent) Material 2: Black (Opal) And clear glass that glints and refract in the sun. Each flower roughly measures 21cm in diameter and is mounted on a weather-resistant stake (non-rust) to securely display your flower in your garden. It is robust enough to brave the weather in your garden however I would recommend protecting it from extreme weather.
What's included in the price?
2 Piece Fused glass flower and stamen & 70 cm stake
Duration
Maker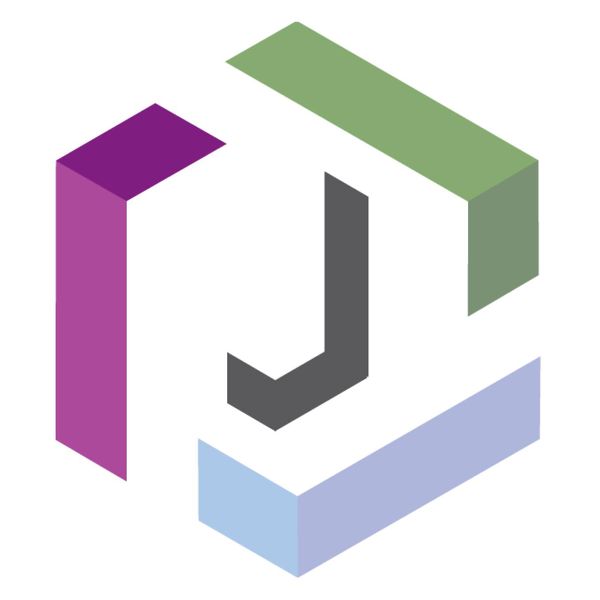 Hi I'm Jon, A fused glass artist based in Cheltenham. I've been exploring my passion with this versatile material since 2016 and established Jon's Design Lab in 2018 to share it with others. I offer a range of courses to suit beginners through my taster workshops, self exploratory workshops (intermediate), through to technical Master classes. My products and designs are inspired by; Light ☀️, Geometry ? & Science ? Lets make your glass dreams a reality ?