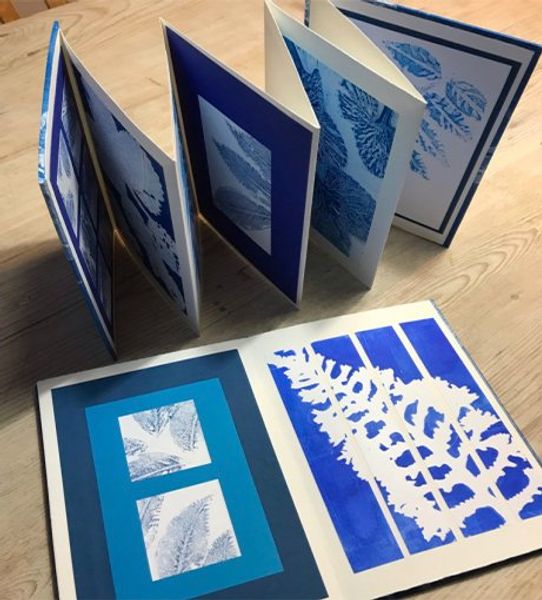 Description
This workshop is in three parts. First Janina will demonstrate how to make faux cyanotypes using a gel plate to make a series of stunning prints from leaves and grasses. These prints will be inspired by the patterns and colours of nature cyanotypes – ie shades of blue. The prints will be mainly using 'mask' printing and 'ghost' printing techniques from a gel plate. In the second part of the workshop Janina will show how to make an A5 concertina book from scratch using two of the prints (on thicker paper) for the covers, and a study cartridge for the inside pages. The third part of the workshop will be chance to fill those books! Janina will demonstrate of ways of cutting, arranging and gluing the nature prints into the pages of the concertina book, to make an attractive and cohesive whole work. All the techniques are suitable for beginners so don't worry if you have never done any gel plate printing or bookmaking before – all techniques will be fully explained and demonstrated. What to bring: A packed lunch For gel plate printing: Apron Gel plate. The two main brands that work well with acrylic paint are Gel Press and Gelli Arts. See also note below. Acrylic paint – suggest a range of different blues and white to follow the idea of cyanotype printing, but really any colours you like to work with. The Pebeo and Hobbycraft brands work well and are a reasonable price. A handful of leaves and grasses to print with – use fresh (not dried leaves) and nothing with thorns or spikes Roller (or brayer) – Janina tends to use the 4" size, but any size will work For making and filling the book (A5 portrait orientation concertina book): Glue stick Double sided tape Drawing tools: Pencil, eraser, sharpener Cutting tools: Cutting mat (A3 or bigger if possible), sturdy craft or cutting knife, metal ruler Scissors Optional if you have them (or can be borrowed on the day) Bone folder (for creasing paper), or you can use your fingernail Paper scorer (an old biro without ink would work) Paper knife / clip knife / shoe knife (for slicing paper) if you have it Important note on gel plates: If you have your own gel plate please bring it. If you don't have a gel plate then you can borrow one on the day. If you want to buy one ahead of the workshop the two main brands that work well with acrylic paint are Gel Press and Gelli Arts. Note - Speedball brand gel plates are manufactured to work with Speedball inks rather than acrylics. There will also be some gel plates available to purchase on the day, subject to availability. Please contact Janina via the 'message the tutor' button.
What's included in the price?
Included on the day: - Expert tuition - 1 to 1 guidance - Detailed demonstrations - A selection of tea, freshly brewed coffee, biscuits and delicious cakes And of course you take your wonderful creations from the day. If you would like to share any photographs of your day here and/or your finished work, we'd love to see them, so you can share this on social media and tag us. Terms - Fee is payable on booking. If, having booked, you cancel your booking, we are unable to offer a refund. However, you may nominate someone else to attend the workshop or class in your place by notifying us using the 'Chat with the Maker'. We reserve the right to cancel a workshop up to 48 hours prior to the workshop date. We will only cancel due to insufficient places sold and you will be refunded the full amount paid. Level: Beginner Number of students: 10
Duration
1 day (10:00am to 4:00am)
Cancellation policy
Non-refundable - Refunds are not available
Maker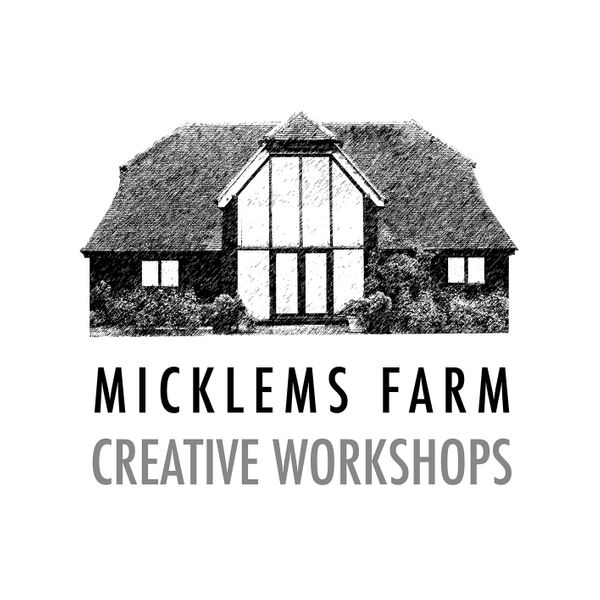 A unique venue in the Berkshire countryside offering a range of creative workshops and flowers from our very own cutting garden.
Venue
Micklems Farmhouse, Knowl Hill, Reading, Berkshire, RG10 9YD
Suitable for
Adults
Suitable for beginners
Suitable for all abilities
Weekends
Parking provided
What does this mean?
Message the tutor